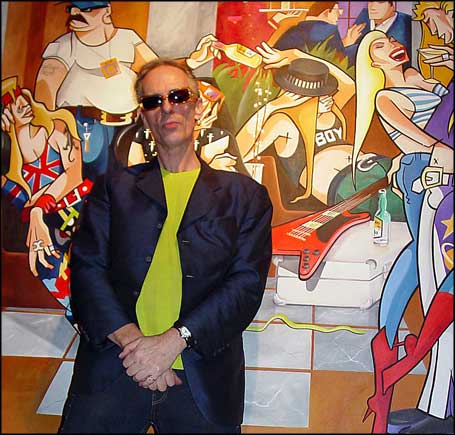 1970
Attended the Academy of Arts, Antwerp Belgium.
1972
Graduate of S.I.S.A. Antwerp Belgium.
1979-82
Designer of showroom interiors for Diesel and Replay clothing companies,
Paris, France.
1984-85
Published illustrations in European magazines including Cosmopolitan
and Flair.
Opened Personal Design Store D.I.N.K in Antwerp, Belgium.
1990 Moved to Los Angeles
1991-94
Commissioned to design store and home interiors in Los Angeles.
1992
One man show exhibition, Lithium Studios, Venice, California.
1994
Twelve paintings are commissioned by music publishers for use in "Masters
of Art" series which combined Bogaert's paintings and classical music
by Debussy. Ravel and Prokofiev to name a few.
1995
Designed Mossimo clothing store in Las Vegas, Nevada.
1996
Moved to South Florida.
One man show, Lost weekends, South Beach Miami, Florida.
One Man show, Professional Arts Building, West Palm Beach, Florida.
1996-99
Regularly published illustrations/paintings in regional and national publications
including Palm Beach Illustrated, Clematis Magazine, Joie de
Vivre and The Flo to name a few.
1997
Artist of the Year. The Flo Magazine, West Palm Beach, Florida.
One man show, Galleria International, West Palm Beach, Florida.
Commissioned to paint a series of large scale murals West Palm Beach,
Florida.
1998
Moved to South beach Miami, Florida. Resided in painters studio and
gallery in the Boulevard Hotel on Ocean Drive, South beach.
1998
Commissioned to paint large scale mural ("Ocean Drive") for i Paparazzi
Ristorante, Cancun, Mexico.
1999-2001
New York City, loft on Canal Street between Soho and Tribeca.
2001
LA to finish the 32 paintings on popular music, the Music Series, 100
years of music.
2003
One man show in "Safe Harbor Loft", 446 Broadway, NYC.
Moves to Antwerp, Belgium and opens up "Heartbeat gallery"
2004
Commissioned to make a series of paintings for RB Vastgoed
2005
Permanent show (wondowdisplay), Rue Royale, Brussels
2006
Permanent show (windowdisplay) Chaussee de Charleroi, Brussels
Large Billboards in Brussels and Antwerp for RB Vastgoed.
Paintings in the Belgian-Flemish tv-series "?????" about a shipping family.
2007
One man show, July - August, Gallery Leondar, Knokke, Zeedijk.
Commissioned for large painting by C&T Retail.
2008
One man show, July - August, Gallery Corner ID-Art, Knokke, Belgium.
2009
One man show, Rollebeek gallery, Les Sablons, Brussels.
2009-2013
Bogaert Studio/Gallery, Rue du Lombard, Brussels
www.bogaertstudio.com, www.bogaertpaintings.blogspot.com